Frequently Asked Questions About Pets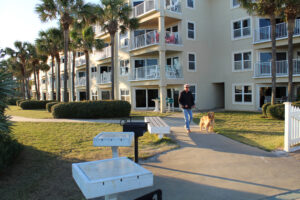 Are dogs accepted at Maravilla Resort?
Yes! Maravilla resort is well known for being pet friendly, but not all units accept pets. With prior permission, Maravilla 2411 accepts small, large and multiple dogs, but certain breeds are excluded no matter the size or weight. Pet owners are expected to supervise pets from barking incessantly, keep their dogs on a leash when outdoors and immediately pick up and properly dispose of pet waste.
Maravilla 2411 accepts large dogs and multiple dogs?
All pets, including large and/or multiple dogs should obtain prior approval from the property manager at the time of booking your stay. Well-behaved small, medium to large dogs such as Labrador Retrievers, Golden Retrievers, Poodles and Poodle mixes, Collies and so forth should be discussed and approved in advance of booking your reservation. Please refer to the prohibited breeds or mix of breeds (below), which cannot be accepted no matter the size, behavior or weight of the dog. Not every property in Maravilla resort accepts large dogs or multiple dogs, but Maravilla 2411 invites you to inquire.
Do I pay an added pet fee for Maravilla 2411?
No, there is not a pet fee for our canine guests. However, if a pet or guest leaves excessive fur behind or damages the furnishings or unit, then the additional cleaning and/or repairs will be billed to the guest.
What should I bring for my pet/s?
Guests should bring their own pet's bedding, food, supplies and so forth. If a pet will be lying on the linens or furniture, guests should bring a sheet to cover the bedspread or furniture from transferring pet oils and odors to the fabrics. The floors are tile throughout, but any pet accidents must be cleaned up immediately, especially if it happens on an area rug. Please remove all pet hair, sand and trash prior to departing to avoid additional cleaning fees.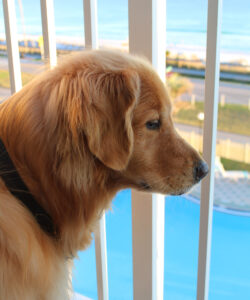 What kind of floors does Maravilla 2411 have?
During the complete remodel of 2021, Maravilla 2411 has new all-tile floors in both bathrooms to help reduce issues with pet accidents and/or allergies. All new LVP plank floors have been installed throughout the remaining areas of the condo and the balcony is concrete.
Are dogs allowed in the local restaurants?
Service dogs are generally allowed in most public spaces; however, leashed pet dogs may be permitted on outside decks and patios of area restaurants. Check with the business establishment in advance to make sure your pet is welcome. There may be restricted hours, seasons or days of the week when they aren't permitted.
Why are certain breeds excluded?
This is due to the Homeowner's association, insurance, safety for other guests and for other reasons. We recommend restricted breeds stay at home with a pet sitter or in a professionally operated kennel. The HOA strictly enforces restricted dog breeds.
Which dog breeds are prohibited?
Restricted/prohibited breeds or mix of breeds include but are not limited to Akita, Anatolian Shepherd, Belgian Malinois, Boxer, Bull Terrier, Bullmastiff, Chow, Doberman Pinscher, German Shepherd, Giant Schnauzer, Mastiff, Neapolitan Mastiff, Ovcharka, Pit Bull (Includes American Bully), Pit Bull Terrier, Presa Canario, Rhodesian Ridgeback, Rottweiler, Siberian Husky, Staffordshire Bull Terrier (American), Wolf or Wolf Hybrid and/or any mix with pit or mixed restricted breeds. Please inquire with the property manager to discuss your specific pet in advance of making a reservation.
What if I'm not sure what kind of dog I have?
Your veterinarian can help with this and most vets provide a photo ID with a description of the dog's size, color and breed on the paperwork. If there's any question your dog is all or part of a restricted breed, it's better to leave them with a sitter at home. Resort security monitors the premises and the rules are actively enforced.
Are dogs allowed on the beach?
There are no local beaches that allow visiting dogs on the beach at any time. There is a local 3 acre dog park with separate areas for large and small dogs that is owned and operated by the City of Destin. South Walton county patrols the beaches daily and they will issue a $500 ticket for dogs without a proper beach license. Beach licenses are generally issued to permanent Florida residents upon request and there are limited hours that licensed pets are allowed on the beach.
What other pets are not permitted?
Due to insurance and safety, the following pets are never permitted:
Wild (cage or domesticated), exotic or aggressive animals; non-poisonous/poisonous reptiles
Prohibited dog breed or mix of breed from the list provided on this web site, or any dog with bite history or aggressive behavior, no exceptions.
Additional questions? please contact us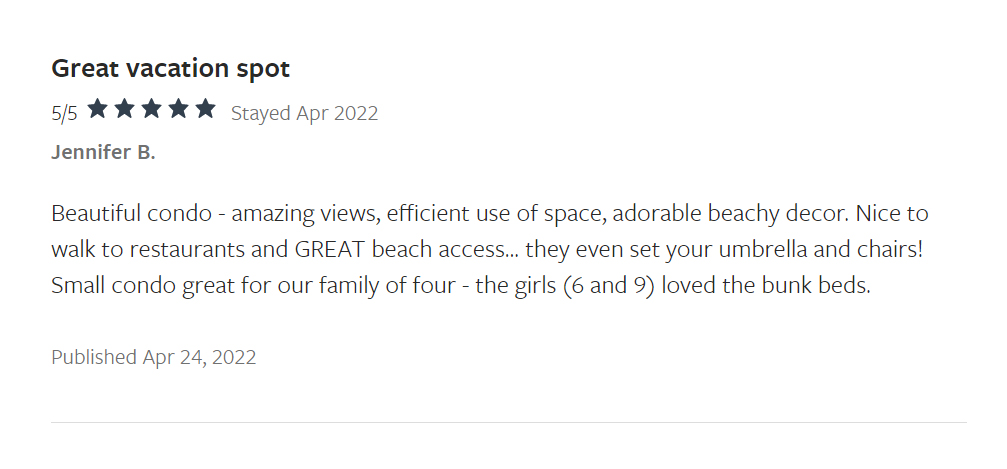 This property is professionally managed by Destin Florida Rentals. Please book direct with Destin Florida Rentals for the best rates. For general questions, please call 260-418-6835 during business hours of 9:00 am to 5:30 pm EST. Note: to book your stay, please do so online.
We look forward to hosting you and are pleased to answer any questions you may have.
Make your vacation memories with Maravilla 2411.